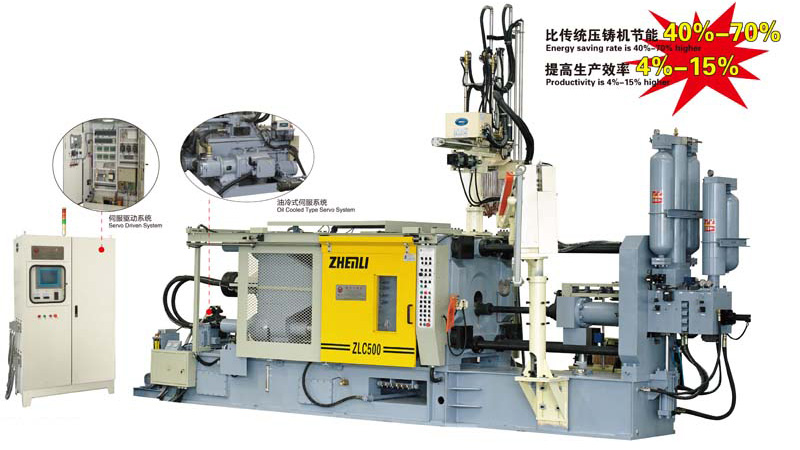 Servo Cold Chamber Machine
Energy-saving servo technology is an important breakthrough in the field of die casting machine hydraulic drive. By means of the drives double close loops, we can use the servo drive to change speed quickly, so as to realize the change of flow correspondingly. Moreover, the pressure can be adjusted automatically through the output of different torques, which helps to achieve high accuracy, high response and good effect.
INQUIRY
Main Features:
The energy saving rate of each shot is very high,40%-70% higher than the traditional machines.
Servo system can response quickly, and the pressure change between 0 and 100% can reach 30ms, which can improve productivity by 5% or 12%.
Servo system can lower the hydraulic temperature and then reduce the use of cooling water by 30%, which can prolong the working life of hydraulic parts,noise and improve your working environment.
Water Cooled Type Hydraulic Servo System
| | | |
| --- | --- | --- |
| | | |
| Cooling Method-Environmentally Adaptable and Friendly | ZLC-500 Oil Cooled Type Servo Pump | Servo Control System |
The flow of single pump is between 8L/min and 500L/min.

The biggest pressure is between 70bar and 350bar.

The system provides comprehensive groups of pressure and flow.

Meets the requirements of designers in all walks of life.
Air Cooled Type Hydraulic Servo System
| | |
| --- | --- |
| | |
| Cooling Method-High Efficiency and Good Looking | ZLC-220 Air Cooled Type Servo Pump |
Servo Driven System
Single Pump Servo Driven System
Double Pump Servo Driven System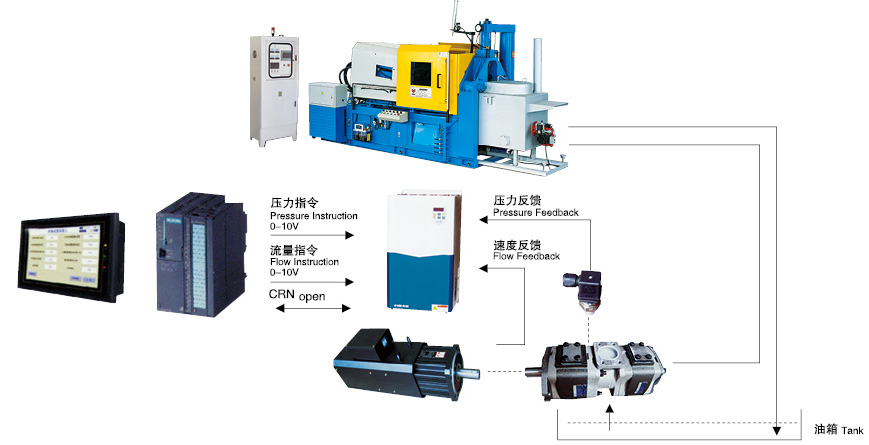 | | | |
| --- | --- | --- |
| | | |
| Single Pump | Double Pump | motor |
| | | | |
| --- | --- | --- | --- |
| | | | |
| Pressure Sensor | Driver | Reactance | Brake |