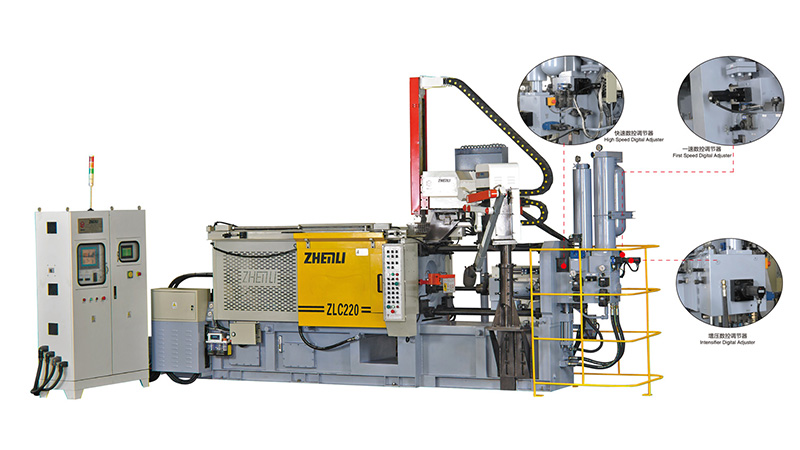 Digital Control Cold Chamber Machine
Digital control is a good solution to those problems which conventional die casting machines manual injection system can not solve, such as automatic control,curve display, and parameter storage, and so on.
INQUIRY
High-Performance and Digital Control Die Casting Machine
Main Features:
Automatic control function of the injection parameters
Users can set injection parameters on the man-machine interface, and then the injection system will automatically adjust the injection position, speed and pressure.
Injection curve display function
The system can finish collecting data of injection position, speed and pressure within one minute, and then analyze those data. Besides, the system also have the function of accurate quality curve, curve history, standard curve comparison, curve overlap display, and so on.
The automatic extract, display and analysis of the injection parameter function
Those parameters displayed on the touchscreen include: slow injection speed, fast injection speed, fast injoction stroke, molding time, building pressure time, and cycle time.
Digital control function
Users can set injection parameter directly, and then the digital controller will adjust the injection parameters automatically. Furthermore, the cartridge valve can keep the actual injection speed the same as your set ones
High-Performance and Digital Control Injection System
The digital control system of the first generation of Zhenli die casting machine consists of four parts, namely Gast Grape shot monitoring software which is used on the man-machine interface, RTDC data collecting controller, digital controller, sensor, etc.
| | | | |
| --- | --- | --- | --- |
| | | | |
| Fast Die Clamping Technology | Accurate Injection Curve Display and Online Quality Management and Analysis | Casting Parameter Setting and Monitoring,to Ensure Castings' Quality | Non-touch Injection Stroke Sensor Secures Reliability |
Zhenli is committed to innovation and exploitation with the aim to create new models. By means of digital control system, compared with the conventional handwheel, our machines possess high precision, high repetition and cost-effectiveness, which improves machines automation level as well as the stability in the process of injection
Updated Injection and Control System(optional)
Advanced and High-performance Injection System
Fast injection and intensifier pressure system is equipped with precise electric proportional valves, easily adjusted and highly repeated.
Fast injection speed and position can be changed and controlled precisely.
Injection stroke is measured by non-touch sensor reliably and the accuracy can be reached 0.1mm, while the high speed starting point is very precise.
The injection and intensifier pressure systems control the return circuit independently, which ensures the high speed of energy storage.
The maximum dry shot speed is bigger than 8m/s, while the intensifier pressure building time is leas than 20ms.
Advanced Control System
High quality S-7300 PLC, 12 inches color screen and embedded injection curve display device provide comprehensive functions.
Rich supply of data and monitoring screens, adding smooth data address are convenient for operation.
Speed and position can be set automatically, which realizes intelligent production.
Detailed injection curve display.
Production management helps to improve efficiency and to reduce production cost.
Auxiliary Software System(Optional)
Professional Control System
Monitors each action of the machine directly, which optimizes the set parameters.
Equipped with a powerful Castpuise injection curve monitor.
Real-time casting parameter control, casting quality control.
Massive production, storage of casting data, convenient for quality check.
Remote Monitoring System
Engineers can connect the overseas customers machine on the Internet
Monitor and modify the machines production process, and troubleshooting online.
Solve problems for oversea customers online.